We're grateful to have hosted not one, but two big virtual events in 2020. Along with learning about how to improve communication and technology for planning and running an event at this scale, we got a ton of value out of watching the talented presenters we got to feature.
Without further ado, here are the top takeaways we gained from the Lift Customer Conference 2020.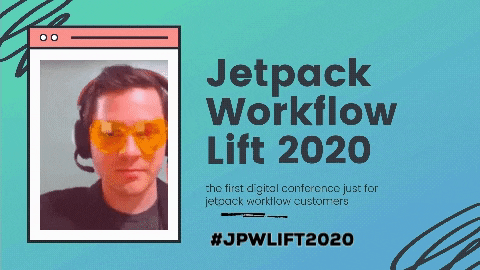 How to Achieve Work-Life Balance
When we started planning this event, we had a clear intention in mind for the theme: balance.
2020 has undoubtedly taken many aspects of our lives out of balance, and instead of giving in to #cancel2020 (although we definitely have had our moments), we choose to take the route of making the most of the end of the year and solidifying our goals for 2021.
With the help of the Lift presenters, we're empowered to reflect on the year, plan for the next, and include margins of time for rest. As Krishna Pendyala said, "Achieving balance is close to impossible. So what can we do instead?"
The following tweetable quotes are some of our favorite and most impactful memories from the event. Whether you got to see them live or on replay or neither yet, here is a taste of the value-packed event thanks to our presenters.
Fireside Chat With Krishna Pendyala & David Cristello
To open the event, David asked Krishna all about his perspective on balance, reconciliation, and how to optimize your time to do all of the things you really value.
When a car runs out of gas, you can see the signals and fill up the tank. But when an oil change is needed, you keep an eye on the windshield sticker as a reminder of when you need it. In life, you need a sticker to remind you to unplug and give your mind a break.
Want to learn more about balance in your life from Krishna? Text "VALUES" to 33777. When you send this text, you'll receive the values assessment for your six main life spaces:
Yourself
Your Partner
Your Friends (Relatives & Community)
Your Work
Your Money
Your Kids (OR pets or parents for whom you caretake)
Workflow Maturity Model With David Cristello
Revealing the research behind Jetpack Workflow's decision to expand into new pricing tiers and growth strategy moving forward, David walked us through the three-part Workflow Maturity Model he created after years of conversations with our customers. He hinted at the big release to come later in the day for our newest customer-centric product feature, Plan.
It's not about the size of the firm; it's about the maturity stage. Which stage are you in?
2020 Tech Trends With Justin Burdett
Jetpack Workflow's Director of Product, Justin, shared trends we've seen from our 6,000+ customers in the tool. He let customers in on one of our north-star metrics for the company: the JDoT, or Jobs Done on Time!
JDoT (Jobs Done on Time) is a great measure of progress, but what we want to do is help our customers to improve their JDoT! We're continually looking for ways to help you manage your team, plan your work, and grow your firm.
Justin explained the three major ways you can contribute your voice to Jetpack Workflow:
Give us your feedback through support and your account manager.
Participate in email & in-app surveys or call us as needed.
Join the customer council!
Automation Alley
The next section of Lift featured some of the leaders in automation via Zapier. We called this section Automation Alley.
Zapier With Heather Satterley
First up was the Zap Queen herself, Heather Satterley. In her presentation, she explained the benefits of incorporating Zapier into your workflow and walked us through how to make a zap that automates adding a new client into Jetpack Workflow, via a Google Form.
The average business uses 18 apps in their daily work. Because these apps require a lot of the same information, client onboarding used to take me 45 minutes per client. This is where Zapier helps: It connects your apps and shares data between them using a Trigger & Actions.
Subscribe to the 'Appy Hour to learn all about trending apps in the accounting space. Maybe you can learn a thing or two about making these apps talk to each other via Zapier while you're at it 😉
Practice Ignition & Jetpack Workflow With Ryan Embree
Ryan told the story of Practice Ignition's origins, including improving the client experience starting with the engagement letter, then proposals, then payment.
We're excited to announce our newest feature: value pricing! You can now offer different tiers of service to your clients via Practice Ignition.
For a personal demo with Practice Ignition, book here. Already using Practice Ignition, but haven't yet made your life easier with a zap between Practice Ignition and Jetpack Workflow? Check out some of the most commonly used zaps between the two systems.
Formstack & Jetpack Workflow With Gabe Caldwell
Gabe walked us through an introduction to the company, use-cases of how Formstack helps accountants, and a demo of the system. Formstack solves two main problems:
Getting data into your system of record like Jetpack Workflow.
Taking that data to get documents signed.
On average, Formstack customers save two working days per week using our workplace productivity platform.
A great problem to have, Gabe offered too much goodness than could fit in his session. If you want to see a demo, or sign up for a 14-day free trial, visit their site now!
Zapier & Jetpack Workflow With Becki Gallagher
Our pinball-playing friend, Customer Success Specialist, and go-to Zapier resource, Becki, illustrated two free and easy zaps you can use to manage new client onboarding. She also announced the newest Zapier-related project she's spearheading for Jetpack Workflow users!
I'm excited to announce that I'm crafting a Jetpack Workflow University Zapier Certification Course! We're creating the course based on our customers' feedback, so fill out the survey at jetpackworkflow.com/zapier-survey.
Give us your feedback and sign up for the first look at our Zapier Certification Course here! Want to try out the zaps Becki demoed? Check out how to create a Google Form, and learn all about Jetpack Workflow Templates.
Expert Sessions
In the second-to-last section of Lift, we wanted to learn more about how excellent leaders manage and grow their firms. We turned to three of our favorite customers in a customer panel, and to an industry leader who shared juicy details about the future of accounting thanks to A.I.
Customer Panel With Ruben Cruz, Jody Grunden, & Amanda Evans
Ruben, Jody, and Amanda are the CEOs of their respective accounting firms. Each has a different team structure, niche, and overall strategy, so we were keen to learn how each would respond to the same set of five questions pulled from our community.
Here are the five questions we asked and they answered:
How do you know when it's time to let someone go?
How do you train/coach the team to do things "your way"?
What format do you use for 1:1 or individual check-ins?
How do you know when it's time to promote someone?
Ways to find/determine if someone is the "right" fit before hiring?
The tweetable quotes below are just one of the many brilliant, thoughtful answers they offered us. Want to see all of their other responses? Watch the full replay here.
Ownership & responsibility are the keys for the person we want to promote.
We use 360-reviews every 2 weeks in the first 90-day probationary period, then every 6 months. We use a "start-stop-continue" review format. We're candid with everything, so there are no surprises in the annual review. It's very transparent, intentional, and deliberate.
How to describe the kind of employee I'd promote? Someone who's willing to make my firm more profitable through efficiency. They're a team player, great at training and hiring and managing staff.
How would you respond to each question? Let us know in the comments below.
Exploring the A-B-C-D of the Digital Age & Their Impact on Accounting With Donny Shimamoto
Donny joined our Lift squad to discuss cybersecurity, how different technologies play into what happens within accounting. He dove deeply into the A-B-C-D of technology, including:
Artificial Intelligence
Blockchain
Cybersecurity
Data Governance
This is going to change the whole information landscape and the reliability of assurance; it's not a paper doc or PDF opinion letter that can continue to be distributed by the entity even when the auditor has already rescinded the opinion.
Reach out to Donny with your questions at donny@intraprise.us. Or connect with him on twitter, or dive into his blog to learn more.
Reveals & Celebrations
After learning about work-life balance (or is it the myth of the work-life balance? 🤔), reflecting on trends from 2020, how to automate more of your work via Zapier, how to manage your team well, and the future of accounting to get excited about, we felt ready to spend some quality time with our customers. We started with an exclusive release announcement and ended with an award ceremony with some of the biggest & brightest technology-driven accountants we know.
Scale Tier & Plan Feature Release
We thought we couldn't possibly wait all day to share the newest feature with you, but somehow we kept it together. To learn all about the brand new Scale tier of Jetpack Workflow and its very first feature, Plan, check out our blog post!
Customer Awards
Congratulations to the super-talented accounting firms who earned these awards!
Return on Investment Award: Summit CPA
Extra Mile Award: Frank Rimmerman
JDoT Award: Financial Navigation Group LLC, Midnight Bookkeeping, and Furgison & Co
Frontier Award: Apex Payroll, LexTax, JB Brown & Co, EdgeAdvisors, New Mexico CFO, and Customized Computer Accounting
Your custom plaques are on their way.
Gratitude
We want to offer a huge thank-you to all of our presenters, including:
Thank you if you attended, whether live or via replay on our YouTube playlist.
We couldn't have pulled off this event without you, and we wouldn't certainly wouldn't want to.